mu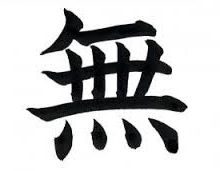 in a show on dutch tv called tokidoki made by paulien cornelisse, she encounters a garden in a zen monastery and talks with the grandson of the man who made it. they are sitting in the garden on the south side of the monastery and paulien says : this garden seems to have nothing it it, and he tries to explain the concept of 'mu' by telling the story of the monk who is asked by the abbot to explain 'mu', which literally means 'nothing' and the monk explains it. well, says the abbot, i see it differently. paulien pretends not to get it, and says : most people would need to have that explained to them, and he says, yes.
cut to the next scene where paulien is seen from the back contemplating the empty garden.
in europe (and i mean 'europe' in a cultural/historical sense, so that includes places which are not 'in' europe, eg australia ha ha and it also includes places where it has been decided that they don't want to be part of europe in a legislative/financial sense, like britain) the idea of leaving an empty space empty is kind of abhorrent.
but the idea of 'mu' is that of a space that is in relation to another space which is not empty (and indeed, the garden on the north side of the monastery has plenty of stuff in it, rocks mostly, and sand raked in an interesting way) and 'mu' is not nothing actually, because of that.